Call for collaboration to support pet owners in need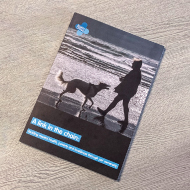 Blue Cross report explores benefits and barriers to pet ownership

National charity Blue Cross is calling for collaboration from academics, charities and politicians following the publication of its report examining the devastating impact poverty, mental health problems and loneliness have on society.

The charity said that it would like to see further research on how society can benefit from pet ownership and is calling for any future government to recognise the significant positive impact animals can have on people's lives.

A link in the chain: Tackling mental health, poverty and loneliness through pet ownership explores the beneficial role pets can play - from alleviating symptoms of mental health and loneliness to being a comfort to owners on lower incomes. It also looks at some of the barriers that exist within these areas that make owning a pet difficult, such as cost, accessibility to veterinary services and the ability to provide appropriate care.

Sally de la Bedoyere, chief executive of Blue Cross, said: "The work of the animal welfare sector to support pet owners in times of need should not be overlooked. The three themes of this report - mental health, loneliness, and poverty and low income - are issues our users experience every day and the teams in our rehoming centres, hospitals, pet care clinics and shops regularly bear witness to the difficulties these challenges present.

"In a perfect world, our services are redundant; there is no need for free or low-cost veterinary treatment and no need to find pets a new home. But until that world exists, charities across all sectors are there to help provide support for those that need it most."

The report makes several recommendations for government, local authorities, the NHS and the Blue Cross itself to ensure that support for pet owners is made available across the UK. Among these recommendations includes a call for more scientific research into the benefits of pet ownership - Blue Cross would like to see more scientific research conducted in this area to enable the introduction of more evidence-based policies.

The report also recommends a government review into the use of Animal Assisted Therapy (AAT) for mental health patients in the UK. The charity believes that AAT is genuinely helping to improve people's mental health and notes that a review would help share best practice and identify areas where it can be most effective.

Furthermore, the report highlights a need for housing and care home providers to develop pet-friendly policies and provide training for staff. A Blue Cross survey found that 90 per cent of recipients over the age of 65 wanted a pet policy in place at care homes but 68 per cent had no plans in place for their pet should they need to go into a care home.