Wrexham third council to say 'pets aren't prizes'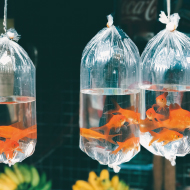 Discussions with RSPCA advance initiative to end 'outdated practice'

Wrexham Council has become the third council in Wales to ban the giving of pets as prizes on its land. Action follows discussions with RSPCA Cymru and is another step in the organisation's bid to instate a country-wide ban on the practice. Wrexham Council joins Caerphilly and Newport in enacting the policy.
The ban means that Wrexham council will not grant licences to anyone planning on giving pets as prizes, including in the town centre and at local fairs. This practice has been commonplace in many areas for decades and can be detrimental to the welfare of the animals being given away.
A total of 24 incidents in Wales were reported to the RSPCA's emergency line between 2014 and 2018. 60 per cent of these calls were related to goldfish.
Lewis Clark, RSPCA public affairs adviser, said: "The RSPCA is absolutely delighted that Wrexham Council has become the third local authority in Wales to ban the giving of pets as prizes.
"Sadly, we know many pets won as prizes will die before getting back to their new homes, or shortly after. Ultimately, having animals as prizes like this actively encourages owners to take on pets in a spontaneous, ill-planned manner. This is an outdated practice that we need to see the back of in Wales."
Amanda Davies, town centre, markets and events manager from Wrexham Council, adds: "We are more than happy to be part of this initiative by ensuring that no one who puts on any event on council owned land in the town centre gives away pets as prizes. 


"We've done this informally for some time and are very pleased that this is now a formal arrangement and part of our conditions of use. The practice is outdated and it's not what visitors to the town centre want to see happening."