Researchers improve speed and efficacy of rabies vaccine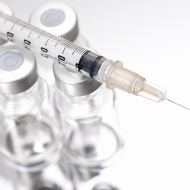 Vaccine incorporates molecule to target B Cells directly

US researchers have found that adding a specific immune molecule to a rabies vaccine can improve its efficacy.

Writing in the journal PLOS Neglected Diseases, scientists note how they used a signalling protein called B Cell activating factor, which binds directly to B Cells.

Previous research found that the existing rabies vaccine works by activating the immune system's B cells. However, the vaccine, which contains inactivated virus particles, can take some time to interact with the B cells.

In this study, the researchers designed a rabies vaccine that incorporated membrane-anchored BAFF to target B Cells directly. They then proceeded to test the vaccine on mice. 

Researchers found that the modified vaccine was significantly faster and had a stronger impact on the immune system compared to the standard vaccine.

"This new vaccine strategy significantly enhanced the speed and magnitude of the anti-rabies antibody responses and has the potential to improve the efficacy of currently used in activated RABV-based vaccines," the authors wrote.

The study notes that more than 59,000 people die every year as a result of rabies, adding that existing vaccines to treat the disease are expensive and complicated to administer.

Scientists hope this new method could improve vaccine efficacy for a range of infectious diseases. However, further research is needed on the safety of the vaccine before it can be tested on humans.

The study was conducted by researchers at Thomas Jefferson University, Pennsylvania.