VET Festival announces 2020 lineup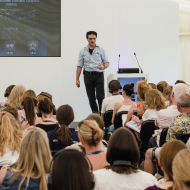 Two-day learning event will foster education and development

A variety of outstanding speakers and education streams have been announced to be included in VET Festival 2020, which aims to combine continuing professional development (CPD) with a relaxed, 'festival' environment.
The speakers this year include Dr Aldo Vezzoni, a European specialist in small animal surgery; Dr Peter Southerden, a European and RCVS specialist in veterinary dentistry and Rachel Lumbis, a lecturer in veterinary nursing at the Royal Veterinary College. Speakers from outside the profession will also feature including paralympic champion Rachel Morris MBE, and mindfulness leadership specialist, Natalie Pennicotte-Collier.
The festival encourages the sharing of knowledge and perspectives among veterinary professionals and 135 lectures will be offered across the weekend to suit people at every level of clinical practice.
Eighteen separate education streams are planned to feature in the festival, including dermatology, dentistry, ophthalmology and endoscopy, along with a new 'top tips' stream, which will offer practical advice for immediate use in clinical practice.
Other events, activities and services on offer over the weekend are an arena where delegates can engage in practical sessions to improve their general well-being, including yoga and mindfulness; The Family Hub, which allows delegates with children to attend the festival and gain CPD hours and a party night on the Friday, where attendees can enjoy a relaxed and fun evening with their peers.
Professor Noel Fitzpatrick, who conceived and launched VET Festival in 2015, commented: "Outdoor festivals bring joy to the soul and I have always wanted education and continuing professional development to feel uplifting, inclusive and life-enhancing, both professionally and from a personal wellness perspective."
VET Festival takes place from 5-6 June 2020 in Loseley Park, Guildford, Surrey.
Image (c) VET Festival