Nominations open for 2020 RCVS and VN Council elections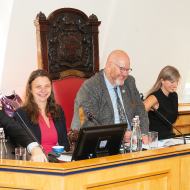 Veterinary surgeons and nurses encouraged to put themselves forward

Nominations are now open for the 2020 RCVS and VN Council elections.

This year the RCVS is seeking three veterinary surgeons to stand on RCVS Council and two veterinary nurses to stand on VN Council. The successful candidates will serve terms of four and three years, respectively.

Nominations will remain open until 5 pm on Friday, 31 January 2020. To stand for election, candidates for either council will need to submit a nomination form, together with a short biography, personal statement and high-resolution photo.
Two nominators are also required for each candidate. For candidates applying for RCVS Council, nominators must be veterinary surgeons who are on the RCVS Register but not current RCVS Council members. Nominators for VN Council candidates should be Registered Veterinary Nurses who are not currently on VN Council.
Owing to governance changes, there was no VN Council election in 2018, nor was there an election in 2019 because there were only two candidates standing for the two available places. VN Council chair Racheal Marshall said this year's VN Council nominations will be particularly welcome:
"Although we are delighted with the two VN Council members who came on board this year, I think all would agree that it was a shame that there was no opportunity for the profession to exercise their democratic right and cast a vote for their preferred candidates, "she said.

"We know that veterinary nurses sometimes feel that they struggle to be seen and heard – being a member of VN Council who can shape policy on education and professional conduct and attend events as an ambassador for the profession all helps give veterinary nursing the voice it deserves. So please consider standing for VN Council and I am very happy to talk to people about what it involves and how to fit it around your work and life."

RCVS registrar Eleanor Ferguson added: "As always, we would encourage those who are interested in having their say in some of the key debates in the regulatory sphere, such as our under care review, our policies around the impact of Brexit and our vision for new veterinary legislation, to become a candidate.
"RCVS Council is at its best when it encompasses a broad range of perspectives, experiences and knowledge, and so we encourage people from all areas of veterinary life and all levels of experience to put themselves forward and share their expertise and insight."
Veterinary nurses who would like to learn more about becoming standing for VN Council can arrange an informal conversation with Racheal by contacting Annette Amato, VN Council secretary, on a.amato@rcvs.org.uk