First oral vaccine for dogs in Europe launched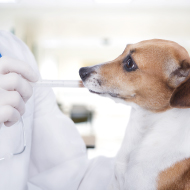 Versican® Plus Bb Oral provides a less stressful experience for pet and owner

A new oral vaccine for dogs has been launched by Zoetis to protect against Bordetella bronchiseptica, a pathogen of the canine infectious respiratory disease complex (CIRDC).

Versican® Plus Bb Oral is the first oral vaccine for dogs in Europe aged eight weeks or older. The liquid vaccine is designed to be administered into the mouth, providing a more comfortable experience for pets, vets and owners alike. 

"Versican Plus Bb Oral provides robust protection along with an innovative and smooth means of administration. The new oral delivery brings a more positive experience for dogs, owners and vets. We expect this new option for vaccination will lead to an increase in recommendations for Bordetella prevention, better vaccination compliance, and ultimately a healthier dog population," said Dr Eileen Ball, global veterinary medical lead for companion animal infectious diseases for Zoetis.

"Nearly all dogs are at risk of CIRDC, and Bordetella is a common, but preventable pathogen. Adding Versican Plus Bb Oral to vaccination protocols offers CIRDC protection for dogs. Vets can propose this new vaccination to pet owners at an annual wellness visit in the knowledge that they will be creating a less stressful experience for the pet and owner."
To provide advice and guidance on the product's launch, Zoetis established the European Canine Infectious Respiratory Disease Advisory Board to provide advice, comprised of specialists from across Europe. 

Board member Professor Emeritus Michael J. Day, University of Bristol, UK said: "The CIRDC has a multifactorial pathogenesis, involving environmental and lifestyle factors and numerous potentially causative organisms. CIRDC is not just a cough picked up in kennels. It can be spread in any space occupied by multiple dogs, including grooming parlours, dog daycare establishments or dog parks.
"The pathogens have not disappeared over time and CIRDC is prevalent throughout Europe, with Bordetella bronchiseptica remaining a commonly identified agent in infected dogs."
He continued: "I think it is exciting for European veterinarians now to have another option in the way they deliver non-core Bordetella protection. There will be different situations depending on circumstances in which either an oral, intranasal, or injectable route of administration will be most appropriate."