Bristol Veterinary School gains AVMA accreditation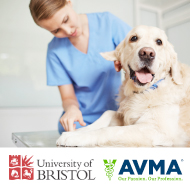 Graduates will be eligible to practise anywhere in the world

The University of Bristol Veterinary School (BVS) has been awarded full accreditation by the American Veterinary Medical Association (AVMA).

The accreditation means that BVSc Veterinary Science graduates can now practise anywhere in the world, and further BVSc AGEP Veterinary Science graduates will be able to practise veterinary medicine in the USA and Canada.

Professor Richard Hammond, head of Bristol Veterinary School, said: "We are delighted to have received the AVMA accreditation. This recognition is testament to the world-leading teaching, research, state-of-the-art facilities and overall student experience offered at Bristol Veterinary School.

"It is also excellent news for our students who have the added opportunity to make vital contributions to veterinary medicine on a global scale."

Bristol's Veterinary School is one of only seven veterinary schools with AVMA accreditation in Europe. The accreditation is based on an evaluation of educational standards, research, teaching, student experience and clinical delivery.

Besides enabling its students to practise on a global scale, the accreditation is also a mark of quality assurance to let the public, veterinary practices and students know that Bristol's education is compliant with agreed benchmarks and standards.
The prestigious award also adds to Bristol's list of existing accreditations, which include the Royal College of Veterinary Surgeons (RCVS), the European Association of Establishments for Veterinary Education (EAEVE), the Australasian Veterinary Boards Council (AVBC) and the South African Veterinary Council.