Construction of Harper Adams veterinary centre underway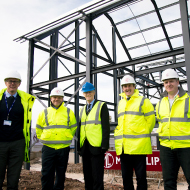 First student intake for veterinary medicine course due in 2020

The construction of a new veterinary centre at Harper Adams University in Shropshire is well underway and expected to be completed for the 2020/2021 academic year. 

The £7.3m centre will serve students of the new Harper & Keele Veterinary School, besides those on veterinary nursing, veterinary physiotherapy and wider animal sciences courses at Harper Adams. 

Telford based building and civil engineering contractors, McPhillips (Wellington) Limited, have been erecting the steel frame for the new building, which will include a wide array of lecture theatres, learning spaces and clinical skills environments.
"Our plans for the Veterinary School are proceeding well, with our first student intake to the new veterinary medicine course due in 2020," said the University's vice-chancellor, Dr David Llewellyn.

"The building on the Harper Adams site will provide a great range of teaching facilities for our students, to complement the wide range of animal facilities we already have on campus. We are excited to see the progress that is being made with the Harper & Keele Veterinary School, which is generating considerable interest within the veterinary profession, and we look forward to seeing the new building take shape in the coming months."
Work on the build began in July 2019 and forms part of a wider investment at Harper Adams of £10.2 million over the coming year.
The centre has been designed to be naturally lit and naturally ventilated, except for more specialist learning areas. It will also run off the University's heating, electric and water network, which deliver energy and water at a much lower carbon footprint than the equivalent connections to the mains.
Image (C) Harper Adams University.