West Nile Virus confirmed in Kentucky horse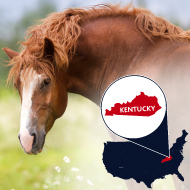 Discovery is the US state's second case of 2019

US vets have confirmed the presence of West Nile Virus (WNV) in a horse from Kentucky.

According to The Horse.com, the University of Kentucky Veterinary Diagnostic Laboratory confirmed the presence of the disease in a five-month-old rocky mountain horse from Powell County.

On Wednesday (9 October), the horse presented with clinical signs compatible with the disease. Vets collected and tested a sample from the horse the following day.
The horse, which had not been vaccinated against WNV, failed to respond to treatment and its condition gradually deteriorated until it died.

This is the second horse to be confirmed with WNV in Kentucky this year. In September, officials at the Kentucky Department of Agriculture confirmed the disease in a seven-year-old Paint gelding.

Other US states that are reported to have confirmed equine WNV cases include California, Colorado, Connecticut, Florida, Idaho, Iowa, Louisiana, Minnesota, and Washington.

WNV is an incurable condition, but with supportive care, some horses do recover. The disease is spread by infected mosquitos, with clinical signs including mild anorexia, drowsiness and asymmetrical ataxia.

The American Association of Equine Practitioners recommends all horses are vaccinated against WNV at least once a year.