Record attendance at BEVA congress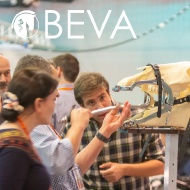 Highest number of delegates in past seven years
With almost 1,700 attendees – representing a four per cent increase on 2018 in overall attendees – a buzzing exhibition hall and a waiting list for teaching sessions, the three-day British Equine Veterinary Association (BEVA) annual veterinary educational extravaganza has been claimed to have delivered beyond expectations.

This year the event produced more than 90 hours of high quality CPD lectures, workshops and practicals across six separate streams during three days. Over 100 veterinary industry leaders showcased their wares in the vibrant exhibition hall and delegates indulged in a full menu of outstanding socials.

This year's figures showed a nine per cent increase in vets attending and the number of overseas delegates increased by seven per cent compared to last year. Three-quarters of delegates had been qualified for more than 10 years and, therefore, were likely to be decision-making directors, partners or senior members of their practice.

The BEVA Congress's scientific programme was highly praised again this year, with delegates awarding it an average score of 4.7 out of 5 stars. Nine out of 10 delegates said they will put what they learnt into practice and use it in their day-to-day role and 94 per cent said the congress was good value for money.

Birmingham's substantial ICC exhibition hall was bursting with a diverse array of exhibition stands and benefited from the added attraction of the demonstration area upstairs, which drew in delegates who were keen for the chance for some exclusive 'hands-on' practical work.

The congress was also lauded by exhibitors – Dr Ruedi Steiger CEO of Swissvet, who won the Veterinary Practice Best New Exhibitor Award for their streamlined patriotic display of power dentistry equipment, said: "We have distributors throughout Europe, but it is the first time we have exhibited at the BEVA Congress. It has been a fantastic experience and I am thrilled to have won this award. I definitely plan to come back next year."

Next year's BEVA Congress will be held in Birmingham from 9 to 12 September 2020.