Progress following strangles initiative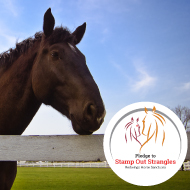 Redwings Sanctuary celebrates one year on
One year on, an initiative to inspire more people to speak out on strangles and take proactive steps to protect their horses has already seen over 710 horse owners and 145 yard managers across the UK confirm their support.

Last November, Redwings Horse Sanctuary launched an online 'Pledge' as part of its award-winning 'Stamp Out Strangles' campaign, urging horse owners and yard managers to make a voluntary commitment to champion biosecurity practices. It has already attracted support from yards, including Hartpury University & Hartpury College and Richmond Equestrian Centre.

The Pledge is part of the Stamp Out Strangles online hub – which was also launched a year ago – full of practical information, advice and resources for yard managers and horse owners, as well as having a dedicated section for vets and other equine professionals.

Since then, Redwings has continued to engage with the equestrian community throughout this year on this important issue.

In March, the charity co-sponsored a strangles symposium at The Royal (Dick) School of Veterinary Studies in Edinburgh, which brought together researchers, veterinary professionals, farriers and equine welfare organisations, to discuss the better prevention and management of the disease.

This was followed in May with Redwings' head of welfare & behaviour, Nic de Brauwere, and Andie Vilela joining the world's leading scientists and vets at the Dorothy Havemeyer Foundation Workshop in Iceland to present on their experiences of strangles.

Then, in July, Redwings instigated a special day of action – 'Speak Out On Strangles Day' – which urged yards to host activities for their clients, such as horse temperature-taking sessions and revising protocols, to encourage more conversations about good biosecurity and to help tackle the perceived stigma surrounding the disease.

And the year isn't finished yet! In December, Redwings will be organising a free veterinary seminar for horse owners in South Wales and plans are already underway to make Speak Out On Strangles Day even bigger next year.