Government launches cat microchipping consultation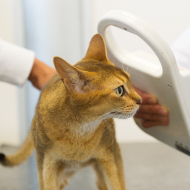 Views sought on the effect of compulsory microchipping on owners, rescue centres and cats

The UK government has launched a call for evidence to understand the consequences of making microchipping of cats compulsory in England.

Ministers are seeking to find out what the effect of mandatory microchipping would be on owners, rescue and rehoming centres and cats themselves. The consultation will last 12 weeks and respondents are being urged to reply as soon as possible.

"Today's call for evidence on cat microchipping will help the government understand how we can better protect this country's much-loved cats and kittens," said environment secretary, Theresa Villiers. "This government is committed to animal welfare and improving the lives of our companion animals.

"Today's announcement builds on a series of positive actions we have taken to improve welfare standards in this country, including a ban on the third-party sale of puppies and kittens and a commitment to increase maximum sentencing for animal cruelty from six months to five years."

While microchipping became compulsory for dogs in 2016, it is not currently required for cats unless they are travelling under the Pet Travel Scheme. Figures show that 92 per cent of dogs are now microchipped, with missing dogs being reunited with their owners faster and spending less time in kennels.

Welcoming the call for evidence on cat microchipping, Cats Protection's chief executive, James Yeates said: "Microchipping is an essential part of responsible pet ownership, yet each year we still take in thousands of cats which have not been microchipped. The majority of strays we take in are unchipped and so we are usually unable to trace an owner and the cats have to be rehomed.

"Microchipping is a safe and permanent way to give a lost cat the best chance of being returned to their home. People tell us how knowing their cat is microchipped gives them reassurance, and it also ensures owners can be informed in the sad event of their cat being injured or killed on the road."

The consultation will remain open until 5 pm on 4 January 2020.