Vets call for solutions to unwanted male production animals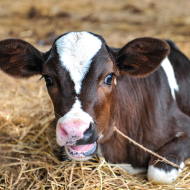 Experts urge dairy and egg industry to adopt a '3Rs' approach

Four leading veterinary bodies have joined forces to say that high welfare UK veal and goat meat should be promoted to help replace the need for the slaughter of unwanted male calves and goats.

The British Veterinary Association (BVA), the British Cattle Veterinary Association (BCVA), the Goat Veterinary Society (GVS) and the British Veterinary Poultry Association (BVPA) have released a joint policy position, outlining the issues connected to surplus male offspring in animals produced for eggs and dairy.
The position calls for solutions based on the overriding principle of quality of life taking precedence over lifespan, with the longer-term aim to move away from the production of surplus animals altogether. Meanwhile, vets say more research into solutions to replace the numbers of additional male offspring and to make sure that on-farm methods of slaughter are humane, would be invaluable. 

"Unwanted male production animals in the dairy and meat industries are an ethical challenge on a number of levels," said BVA Junior Vice President, James Russell. "Firstly, for the producer who may have animals with little or no commercial value. Secondly, for the consumer who may find the notion of these unused animals a difficulty.
"Our new joint position is based around the principle of 'a life worth living' and looks at ways that the veterinary profession can work with the farming community to reduce the numbers of animals that this affects and ensure that high welfare is always front and centre."
An estimated 95,000 calves, 3,000 Billy kids and 30 million chicks are affected each year because they are surplus to requirements. The egg and dairy industries have been advised to adopt a '3Rs' (reduce, replace, refine) approach to their rearing and slaughter of such animals.

Reduction recommendations include selecting for sex and increasing the length of time that an animal can produce milk through selective breeding. In the absence of these options, the approach recommends raising male offspring for meat and comes with the caveat that calves and billy goat kids should be raised within UK high welfare schemes only.

In the absence of any reduce or replacement options, vets advise that killing should be undertaken in the most humane way and that all the animal's welfare needs must be addressed prior to slaughter.
BCVA President, Professor David Barrett said: "As we strive for improved sustainability and increase efficient use of resource in food production, we need to use every product from dairying, including calves that can be reared for meat.
"Our entire industry needs to work together to create a robust supply chain for high quality, farm assured British dairy beef and veal and we need to help consumers understand they should embrace these products."