Charity calls for a ban on donkey skin trade in Kenya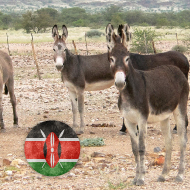 Report investigates impact of the trade on local communities

The donkey hide trade in Kenya is having a significant impact on local communities and should be banned, according to research commissioned by international animal welfare organisation, Brooke. 

The research, The Emerging Trade in Donkey Hide: an opportunity or a threat for communities in Kenya?', investigated the effects of the donkey hide trade on the livelihoods of five smallholder farmers in the region.
It found that while the donkey trade does offer short term benefits to farmers, such as money to pay for school or medical fees, it makes them vulnerable to poverty in the long term.
Researchers say that if the trade in donkey hide is not restricted, it could lead to a rise in poverty levels and the marginalisation of already-deprived groups such as women, children and the elderly.

"It is our recommendation that the trade should be closely monitored and its effects on livelihoods taken into account in policymaking and any legislation that attempts to regulate the trade," the report concludes.
The trade in donkey hides, both illegal and legal, from Africa to China is on the increase. They are used in a form of traditional Chinese medicine called ejiao, which is used in food, drink and beauty products. 

To meet this growing demand, donkeys are sold for export and sometimes stolen from the communities that own them. In turn, this leads to difficulties in donkey breeding and the depletion of local herds.

The trade, transport and slaughter of donkeys are also linked to serious health and welfare concerns. Earlier this year, a report by the Kenya Agriculture and Livestock Research Organisation (KALRO) predicted that donkeys in Kenya could be wiped out by 2023.

The same report found that the numbers of donkeys slaughtered were five times higher than the number of stun bullets used by the slaughterhouses, suggesting that only one in five animals were humanely stunned before slaughter.
Kenya is home to one of the largest donkey populations in East Africa (around 1.8million). The donkeys help local communities with water provision, agriculture and the transportation of people and goods.
Brooke East Africa are working tirelessly to raise awareness of the KALRO report in Kenya and has helped owners who have lost donkeys through the National Network of Donkey Owners.