Romanian rescue dog scoops Animal Hero Rescue Award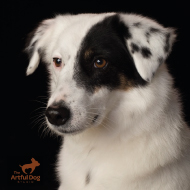 Fleur defied the odds to survive a one per cent survival rate

A Romanian rescue dog who beat the odds to survive a one per cent survival rate has received the Daily Mirror's Animal Hero Rescue Award 2019.

Collie-cross Fleur was presented with the award on Monday (30 September) after judges learned she survived horrific mistreatment in Romania, before being rescued and becoming a therapy dog. 

Fleur was found on the streets of Bucharest, fighting for her life after a gruelling spay operation. UK-based charity Valgrays Border Collie Rescue arranged for her to have an operation and she was adopted by UK couple Wendy and Andrew Morris.
Three weeks after arriving in the UK, however, Fleur collapsed and a local vet found that she had rotten, dead intestines and sepsis. The vet operated straight away, removing around 60cm of her intestines, but she was left with just a one per cent chance of survival and her owners were advised to consider euthanasia.
Determined not to give up, Wendy and Andrews sought the advice of the RVC's small animal hospital in Potters Bar. Remarkably - three vets, five hours of surgery and two weeks in intensive care later - Fleur made a complete recovery. 

Fleur has since become an ambassador for rescue dogs, becoming Scruffts Best Rescue Finalist in 2017. She also took part in a Channel 4 documentary and was a finalist in the Charity Film Awards. As a recently-qualified Pets for Therapy Dog, Fleur helps children who struggle to read to gain confidence and self-esteem through therapy sessions.
Wendy Morris said: "We're absolutely delighted that Fleur has been awarded this recognition. She is truly beautiful inside and out and nursing her back to health was one of the more beautiful and unifying aspects of humanity. People's willingness to go to great lengths to help Fleur just showed how much they cared; it really was a miracle.
"Fleur is a happy girl, living life to the full. She has taught us that we shouldn't ever give up – a one per cent chance is better than nothing. With the help of many people, she is a symbol of hope that for some dogs at least there can be a different life."
RVC's professor of small animal surgery, Vicky Lipscomb, said: "I got to know Fleur while she was a patient at the RVC Small Animal Hospital. She was very sick as her whole body and bloodstream were infected.
"It is absolutely fantastic that Fleur is being recognised with this award given everything she has been through. She is a very special dog."
Image (C) RVC/The Artful Dog.