RCVS welcomes 30 new Fellows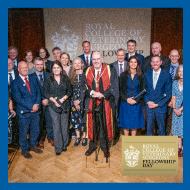 Breadth and depth of veterinary knowledge on show
On 20 September, at its fourth annual Fellowship Day, the RCVS welcomed new Fellows who were joined by colleagues for a day of scientific excellence that showcased the extent of veterinary knowledge.

In total, 30 new Fellows were welcomed – 19 for meritorious contributions to clinical practice; five for meritorious contributions to knowledge; and six for meritorious contributions to the profession. A full list of those welcomed to the Fellowship this year is available to download, where the link to the new Fellowship Directory can also be found.

The Directory of Fellows gives members of the public and the profession a greater insight into who is in the Fellowship and why, as well as promoting the Fellowship as a repository of veterinary knowledge and expertise.

The occasion also saw Professor John Innes welcomed as the new chair of the RCVS Fellowship for a three-year term during which he will be responsible for meeting the initiative's strategic aims and setting its priorities.

Professor Nick Bacon, outgoing chair of the Fellowship, welcomed Professor Innes before reflecting on his three-year term. "As I come to the end of my three-year term," he said, "I look back with immense pride on everything that has been achieved by the initiative in this relatively short time-frame.

"We have welcomed over 150 Fellows under the three new routes to Fellowship since 2016, and developed a three-year strategic plan to support the Fellowship in achieving its aim of becoming a thriving learned society."

The day's keynote speaker, was Dr John (Iain) Glen, who gave a presentation entitled: 'Try, try and try again: some personal reflections on the development of the anaesthetic propofol'. In his presentation he detailed his ground-breaking work at AstraZeneca where he discovered and developed propofol – one of the most common anaesthetic drugs in use today.

Following Dr Glen's speech the second annual 'Fellows of the Future?' competition took place, in which eight current students – a mix of undergraduates and postgraduates – presented their current research to the delegates and a judging panel comprising Professor Nick Bacon, Dr Glen, Professor John Innes and Dr Niall Connell.

The winner of the competition was James Statton, from the University of Nottingham, with his presentation on his research examining students; transition into veterinary education, and whether their expectations match their experience. His prize was a £200 book voucher.

The presentation by undergraduate student, Luke Gunter, of the Royal Veterinary College, on the effects of FSTL3-deletion on trophoblast migration, was judged highly commended by the panel, and he was awarded a £100 voucher.

There then followed 'Fellows in Focus' – a series of six 10-minute talks from new and existing Fellows on a topic of their choice, with the aim of shining a light on fascinating areas of work currently to be found within the RCVS Fellowship.

Videos and written reports from the Fellowship Day will also be available in due course.