ZSL launches appeal to double wild tiger numbers in Nepal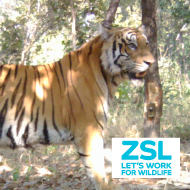 Donations will be matched by the UK government
International conservation charity ZSL has launched a UK Aid Match appeal to double the number of wild tigers in Nepal.

It is hoped the appeal - For People, For Wildlife - will expand existing conservation programmes in Nepal, helping local communities plan and create environmentally sustainable ways to make a living and build the same opportunities in Kenya too.

ZSL hopes to alleviate the pressures of poverty which make communities in Kenya vulnerable to exploitation by the international wildlife trade. For every £1 donated to the UK Aid Match charity appeal, the government will also contribute £1 of UK aid up to £2million.

"Around the world, wildlife is going extinct - if we act now we can turn the tide and stop incredible species, like tigers, from disappearing forever," said ZSL director-general Dominic Jermey. "Just one donation can transform the future, for people and for wildlife. Your pound has never been more valuable."

There are thought to be no more than 4,000 tigers left in the wild across Asia. In Nepal, wild tiger numbers increased to 235 in 2018 from only 121 in 2008, thanks to conservation efforts by ZSL, the government of Nepal and local people. But as ZSL's Dr Hem Baral, Nepal country manager, explains, there is still much to be done:

"In Nepal, we are very proud of our wildlife, but when peoples' livelihoods are threatened, some are pushed into wildlife crime to support their families, such as going into national parks to hunt," he said. "ZSL has been working in Nepal for nearly 25 years, supporting communities and changing attitudes towards wildlife conservation.

"With starter loans and training, people can build legal, safer and more sustainable livings such as dairies, hotels, beauty salons and tailor's studios. This breaks their dependence on the forest."

Plagued by poverty, locals enter the borderland's of Nepal's national parks, risking both their lives and the integrity of the tigers' habitat. With the human population rising, competition for space and resources is also growing, and the survival of some of the world's most iconic species hangs in the balance.

Conservationists say that without further support for communities, trees will be felled, rivers will be overfished, and deer that sustain large predators will be hunted unsustainably.