Boehringer Ingelheim donates vaccines to fight rabies in Puerto Rico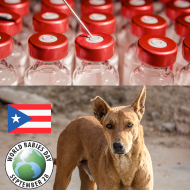 Rabies is estimated to kill some 59,000 humans annually

Pharmaceutical firm Boehringer Ingelheim has pledged to donate 60,000 doses of its rabies vaccine over the next three years to help fight the disease in Puerto Rico.

The firm announced the move to coincide with World Rabies Day (28 September) as part of its Shots for Good Initiative to help eradicate rabies around the world by vaccinating dogs.

"We're pleased to do our part to help protect animals from rabies," said Randolph Legg, head of the pet vet business at Boehringer Ingelheim's U.S. animal health business.
Rabies is estimated to kill some 59,000 humans annually in more than 150 countries and regions. Dog bites are the main source of human death, accounting for more than 99 per cent of transmission of rabies from animals to people. 

Boehringer announced that it will spread the donations in Puerto Rico over three years alongside events planned by the Spayathon for Puerto Rico, a coalition of around 24 groups organised by the Humane Society of the United States. The groups have offered to provide spay/neuter and vaccination services to thousands of animals.
The nonprofit Veterinarians for Puerto Rico will use the donated vaccines to protect animals in rural parts of the island. Boehringer also said it will donate tens of thousands of dollars to the nonprofit Greatergood.org, which provides proof of rabies vaccination for animal shelters and unserved communities in need.

Chief executive Louis Nel of the Global Alliance for Rabies Control, which coordinates World Rabies Day, said the world is moving toward eliminating rabies deaths by 2030.

"The most important element of any rabies-elimination program is the vaccination of animals and humans, and is reflected by this year's World Rabies Day theme: 'Rabies: Vaccinate to Eliminate.' The involvement and collaboration of vaccine manufacturers is essential to help countries on their journey towards freedom from rabies."