Government announces global alliance to protect world's oceans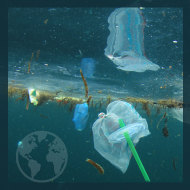 Initiative aims for at least a third of oceans to be safeguarded by 2030

The UK government has announced a new global alliance to help protect the world's oceans and its wildlife.

The 30by30 initiative is aiming for at least 30 per cent of the global ocean to be protected in Marine Protected Areas (MPA) by 2030. It has so far been supported by 10 countries, including Belize, Costa Rica, Finland, Gabon, Kenya, Seychelles, Vanuatu, Portugal, Palau and Belgium.

Ministers say the protections will help seahorses, turtles and corals to thrive, and will help fight climate change by protecting key carbon habitats such as mangrove forests and seagrass meadows. 

Environment secretary, Theresa Villiers said: "The UK is taking a world-leading approach to marine conservation and is on track to safeguard nearly 50 per cent of our precious marine habitats. But we are determined to go further.

"The world's ocean is a shared resource, sustaining lives and livelihoods and supporting 80 per cent of our blue planet's biodiversity. Only by working together can we protect and restore our marine environment for future generations to come."

The Global Alliance will also call for the 30by30 ambition to be adopted at the next Convention on Biological Diversity conference in China and introduced into international law through the High Seas Treaty in 2020.

The UK is leading the way on this issue, having been the first country to call for a global 30 per cent target at the United Nations General Assembly last year.
Welcoming the move, Will McCallum, head of oceans at Greenpeace UK, said: "If the Government is serious about meeting this target, a strong Global Ocean Treaty must be agreed by the United Nations next year. 

"We hope to see this coalition of countries calling for real ambition, by ensuring the treaty has powers to establish, manage and most importantly protect a global network of ocean sanctuaries, completely off-limits to human exploitation. This would give sensitive parts of our oceans the space and time they need to recover and thrive.

He continued: "However, our oceans do not exist in isolation. It's vital that our Government's commitments on ocean protection are matched by other actions, both at home and abroad, to radically transform the global economy away from fossil fuels and other destructive industries, to stand a chance of tackling the climate emergency."