Government updates guidance on movement of horses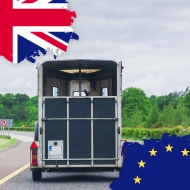 Guidance designed to help owners in a no-deal scenario

The Government has updated its guidance for owners on the movement of horses and other equines in the event of a no-deal Brexit.
The guidance is designed to give owners time to prepare for the new processes, and factor in extra travel time that be required when travelling to and from the EU.

"While the Government is seeking a deal, we have stepped up our preparations and we will be ready to leave the EU on 31 October, whatever the circumstances," explained Defra minister Lord Gardiner.
"This guidance will help businesses and owners of horses prepare if we leave without a deal and the Government has already committed to the continued movement of horses from EU member states."

If the UK leaves the EU on 31 October without a deal:

• equines travelling from the UK to the EU may need to undergo additional blood tests, which will need to be carried out within 30 days or less of travelling to satisfy EU regulations
• owners will need to consult with a vet at least six weeks before they are planning to travel
• all equines will need an Export Health Certificate in order to travel to EU states, instead of current documents, and will need to enter the EU via a Border Inspection Post (BIP)
• most equines will also need a Government-issued travel ID document, as well as their existing equine passport.

The UK has already committed to allow the continued movement of all equines from EU member states ahead of major equestrian events and to support the industries that rely on these animals.
The government is continuing with its application to the European Commission (EC) on securing listed status for the UK, which would enable the continued movement of equines to EU member states.

If the UK is not provided with listed status by the EC, equines will not be able to travel until listed status is secured.