Pair of endangered Amur leopard cubs born at Colchester Zoo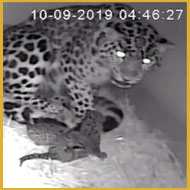 Keepers at Colchester Zoo are hailing the arrival of a pair of critically endangered Amur leopard cubs.

The cubs were born to first-time parents Esra and Crispin on the 9 September. This is the first time the Zoo has bred Amur leopard cubs on-site.
Amur leopards originate from the Russian Far East and north-east China. In the wild they are threatened by climate change, habitat loss, deforestation and the illegal wildlife trade.

The cubs are said to be "looking well" and are expected to emerge from their den in a few weeks.