Exotics vets treat 61-year-old tortoise for bladder stones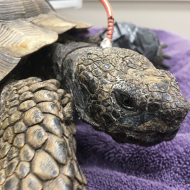 Team removed stones without having to cut through the shell

Exotics vets in the US are reiterating the importance of annual check-ups after successfully treating a 61-year-old tortoise for a recurrence of bladder stones.

Desert tortoise Mohave was presented to the UC Davis Veterinary Hospital after his caretakers noticed that his urates had become thick and pasty. He subsequently suffered a cloacal prolapse, most likely caused by straining to eliminate the pasty urates.
Veterinary surgeon Juliana Sorem from Wildcare - a wildlife hospital and Mohave's home since 2003 - took radiographs and noticed some distinct white shapes within his abdomen.
"We compared the images with the radiographs taken at his last routine physical and didn't see these objects on them," she said. "Given his clinical signs and the radiographic images, I was fairly certain the stones had recurred."

Mohave was referred to the exotics team at UC Davis Veterinary Hospital, who had successfully removed bladder stones from Mohave in the past, without having to cut into his shell.
Faculty member Dr David Guzman and resident Dr Sarah Ozawa were able to remove the stones via an endoscopic-assisted procedure - a minimally invasive technique that allows clinicians to access the bladder through the prefemoral fossa in front of the hind limb, instead of cutting through the shell.

The team said that owing to Mohave's regular care and annual check-ups, the stones were caught early enough to be removed in this way. Dr Guzman warns that if stones go unchecked for too long, they can grow so large that it may be complicated or impossible to be removed through a minimally invasive approach.

"If we have to enter through the plastron, it's very invasive," said Dr Guzman. "It takes a long time to heal, and sometimes it fails to heal properly. So, Mohave's case is a great example of the importance of annual check-ups for any animal."

Mohave's case is detailed in a study published in the Journal of the American Veterinary Medical Association.


Image (C) UC Davis Veterinary Hospital.