Loch Ness Monster may be an eel, study suggests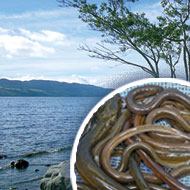 Researchers analyse DNA samples from water samples

Scientists investigating the myth of the Loch Ness Monster say that the repeated sightings could be attributed to a giant eel.

Researchers at the University of Otago, New Zealand, took DNA from 250 water samples in Loch Ness to reveal a comprehensive picture of all living species the loch contains.

Speaking at a media conference at the Loch Ness Centre in Drumnadrochit, Professor Neil Gemmell said his team had not discovered any monster DNA in the water. 

Some scientists believe that Nessie could be a Jurassic-age reptile or population of Jurassic-age reptiles such as a plesiosaur.

"We can't find any evidence of a creature that's remotely related to that in our environmental-DNA sequence data. So, sorry, I don't think the plesiosaur idea holds up based on the data that we have obtained," he said.

The research team also looked for evidence to support other theories, such as various giant fish, catfish, eels or even a shark.

Professor Gemmel continued: "So there's no shark DNA in Loch Ness based on our sampling. There is also no catfish DNA in Loch Ness based on our sampling. We can't find any evidence of sturgeon either."

The scientists did, however, obtain DNA evidence that the 'monster' could be linked to a giant eel. 

"There is a very significant amount of eel DNA. Eels are very plentiful in Loch Ness, with eel DNA found at pretty much every location sampled - there are a lot of them. So - are they giant eels? 

"Well, our data doesn't reveal their size, but the sheer quantity of the material says that we can't discount the possibility that there may be giant eels in Loch Ness. Therefore we can't discount the possibility that what people see and believe is the Loch Ness Monster might be a giant eel."