Outlook for Great Barrier Reef rated 'very poor'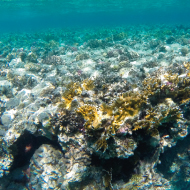 Report explores key threats to ecosystem
The long-term outlook for the Great Barrier Reef ecosystem has been officially downgraded, from 'poor' to 'very poor', according to a new report.

Researchers from the Great Barrier Reef Marine Park Authority (GBRMPA) said this is a critical point in the reef's history, and there is an urgent need for accelerated action to improve it.

Key report findings:
coral reefs have overall declined to a very poor condition, after extensive coral mortality due to back-to-back coral bleaching events, cyclones and an ongoing crown-of-thorns starfish outbreak
the risk of several threats has increased since 2014, including altered ocean currents, artificial light and grounding of small vessels
the overall condition of habitats is poor. There has been habitat loss, degradation and alteration in a number of areas, affecting populations of dependent species such as some reef fish, marine turtles and seabirds
factors that influence and interact with the reef are intensifying, and while some can be managed or controlled, others - such as climate change - require global efforts
inshore water quality is improving at a regional level but the change is too slow
given the size of the region, its health and condition is variable and many areas continue to support healthy corals and marine life. Some species are thought to be recovering - humpback whale populations are healthy and southern green turtles are thought to be on the increase.

Chief scientist Dr David Wachenfeld said the most immediate threats are the gradual increase of sea temperature and extremes such as marine heat waves.

"Global action on climate change is critical," he added. "Mitigating threats like climate change and poor water quality, coupled with resilience-based management, are essential to boosting Reef health so it can recover from major disturbances."

Australian and Queensland Governments are investing over $2 billion in the next decade as part of a comprehensive plan to protect the reef.