Vets are 'key influencers' in horse vaccination decisions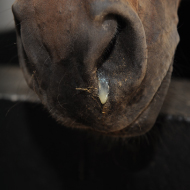 Survey finds more than half of owners unaware of EHV vaccine

A new survey suggests educating horse owners could significantly impact their likelihood of vaccinating against equine herpes virus (EHV).

Research carried out by Zoetis in March found that while 87 per cent of horse owners vaccinated against equine influenza and tetanus, just 40 per cent vaccinated against EHV.

More than half (55 per cent) were unaware that an EHV vaccine is available. But 77 per cent of those who did not vaccinate said they would in future, having learnt more about it.

Veterinary advice and endorsements from rider associations were consistently found to be significant influencers when it comes to decisions about vaccinating.

A separate survey aimed at vets found 93 per cent agree that EHV vaccination is effective for its licensed indications, while 83 per cent said EHV may impact performance in competition horses.

Almost all vets and horse owners who took part in the survey said they would like more information on EHV to be made readily available. In response, a group of equine vets have produced a roundtable document, while Zoetis has put together a series of educational videos for owners and a CPD video for vets.

Emmeline Hannelly, welfare education manager at the British Horse Society, said: "The awareness and interest in equine contagious diseases has increased in the equine community following the equine influenza outbreak.
"As reflected in the survey results, it's encouraging that a high proportion of horse owners want to find out further information and understand the potential risk of EHV to their horses."