Hornbill parts for sale on Thai social media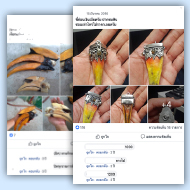 Study finds hundreds of illegal parts being sold on Facebook
Hundreds of hornbill parts and products have been listed for sale on Thai social media in the past five years, according to a new study.

Wildlife monitoring group TRAFFIC found a minimum of 236 online posts offering at least 546 hornbill parts and products on 32 Facebook groups.

The online study was carried out over a six month period, but looked at posts from June 2014 to April 2019. It is the first systematic study to provide evidence of the trade in helmeted hornbill parts in Thailand, which accounted for the majority (83 per cent) of recorded hornbill commodities.

Researchers also found 94 whole heads of eight other hornbill species, all of which are native to Thailand and prohibited from hunting and trade in the country.

Conservationists said the findings are particularly troubling, as trade in the species has risen over the past decade, due to demand for their solid bill casque, which is carved as an alternative to elephant ivory.

Populations have been declining in recent years as a result of illegal hunting and trafficking, prompting the species to be uplisted to 'critically endangered' on the IUCN red list.

Tackling the trade
At the 18th Cites meeting in Geneva, which closes today (28 August), governments agreed tougher measures to eliminate trade threats affecting the species.

TRAFFIC said Thai authorities have taken successful enforcement action in at least five of the online cases, but the activity is persistent. Cursory checks of the 32 groups this month revealed helmeted hornbill products are still being offered for sale. A number of pages and posts have been deleted, which could be down to action taken by Facebook or law enforcement agencies.

Co-author of the report Kanitha Krishnasamy said: "Taking down posts serves to reduce opportunities for buyers to make a purchase. But our years of monitoring online trade clearly show that when posts are taken down, trade activity simply resumes after a brief lull when traders lay low to avoid detection.

"We fully recognise that tackling the illegal wildlife trade online comes with its own set of challenges, but key to any success is to pursue investigations and collaboration with all the right partners."

In April this year, Facebook also banned the trade in live animals from non-verified businesses, as well as the trade in endangered species and their products.

TRAFFIC is urging the social media platform, and Thai authorities, to continue being vigilant and work closely to develop strategies for tackling the trade. Social media users can also have a positive impact by reporting suspicious posts online.