Zoo inundated with bamboo donations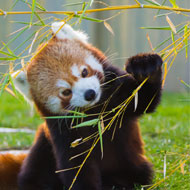 Appeal put out to replenish the red pandas' stocks

A zoo in East Sussex says it has been inundated with bamboo for its red pandas after putting out an appeal for help earlier this month.

Drusillas Park launched an urgent public appeal for bamboo donations after its red pandas Mulan and Maja munched through more of their bamboo plantation than expected.

The zoo said it received hundreds of deliveries and collections from members of the public who donated bamboo from their gardens. Drusillas is once again fully stocked, to the delight of Mulan and Maja.