Endangered turtles rescued from smugglers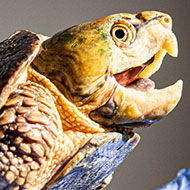 A group of endangered turtles have found a new home at London Zoo after being rescued from smugglers.

The four big-headed turtles arrived at the zoo at the end of last year, after smugglers tried to illegally import them to Canada, labelled as toys.

One of the turtles, named Lady Triệu after a Vietnamese warrioress, has moved to a new exhibit in the zoo's reptile house. She is the only one of her kind in a UK zoo.

Big-headed turtles have such large heads that they cannot pull them back into their shells. To compensate, they have armour plating from head to tail and a very sharp beak to fend off predators. They are ranked number 18 on ZSL's EDGE of Existence reptile list, which puts threatened species at the forefront of conservation action.


Images © ZSL