Top event rider to teach young people about horse welfare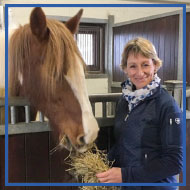 Equine event rider Mary King has teamed up with Blue Cross to help children and young people learn more about the responsibilities of pet ownership.

Mary stars in a new educational video highlighting the growing problems associated with the horse welfare crisis.
Volunteer education speakers, supported by videos featuring Mary, will spread the word about the five welfare needs, and the need to breed responsibly.

Blue Cross education officer Gemma Taylor said: "In terms of horses, the biggest issue is the sheer number of them needing our help.

"Too many horses and not enough homes mean that UK charities are being swamped with abandoned, unwanted and neglected horses and ponies.
"We are thrilled to have teamed up with Mary King to help encourage people to understand and engage with the problem to help prevent it from escalating."
Image courtesy of Blue Cross