Victory for hedgehog highway campaign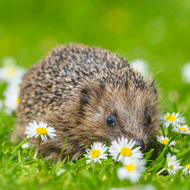 New build houses 'should have wildlife-friendly features'

Housing developers have been ordered to do more to help British wildlife, including building 'hedgehog highways' in all new homes.

Communities secretary Rt Hon James Brokenshire MP set out expectations for how developers can protect species, after an online petition received more than half a million signatures.

Fay Vass, chief executive of the British Hedgehog Preservation Society (BHPS) described the move as "one of the most significant breakthroughs" in the campaign to help hedgehogs.

House builders will be required to think about the long-term impact of their developments on the local ecosystem, and find innovative ways to allow nature to thrive.
This includes hedgehog highways in garden fences to allow the small mammals to move through back gardens in search of food and nesting spots. 'Swift bricks' can also be installed in the walls of new build homes, allowing birds to nest peacefully throughout the year.

Drainage areas can create attractive wetlands for birds and amphibians, and the communities secretary also called on developers to plant more trees and green meadows to support insects.

Rt Hon Brokenshire said: "Building the new homes this country needs must not come at the detriment of our natural heritage. It's right that as we deliver houses for people, we must also provide homes for wildlife too - whether that's for hedgehogs, frogs, newts or birds.

"The public have told us that protecting wildlife is important to them – so my message to house builders is to harness this support and get building in a way that protects the environment for the next generation."

Hedgehog populations in the UK are thought to have declined by 95 per cent since the 1950s.

Fay Vass added: "Hedgehog numbers are declining dramatically - and house building is set to increase dramatically. This announcement will ensure that new developments, rather than further damage vulnerable hedgehog populations, may actually encourage them to flourish…

"We can do so much to help them by making our gardens hedgehog friendly. But unless the hedgehogs can get in - then the gardens are useless to these wonderful, charismatic creatures."