Veterinary Evidence Student Awards winners revealed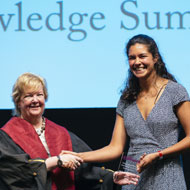 The first winners of the RCVS Knowledge Veterinary Evidence Student Awards have been revealed.

Molly Vasanthakumar scooped first prize for her knowledge summary comparing the ecological impact of woven versus disposable drapes. She found that there is not enough evidence that disposable synthetics reduce the risk of surgical site.

Second prize went to Honoria Brown of the University of Cambridge, for her paper: 'Can hoof wall temperature and digital pulse pressure be used as sensitive non-invasive diagnostic indicators of acute laminitis onset?'

Edinburgh's Jacqueline Oi Ping Tong won third prize for critically appraising the evidence for whether a daily probiotic improved clinical outcomes in dogs with idiopathic diarrhoea.
The papers have all achieved publication in RCVS Knowledge's peer-reviewed journal, Veterinary Evidence.
Image (C) RCVS Knowledge.