Investigation raises concerns about bird tethering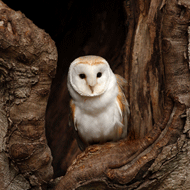 Report on 95 zoos suggests some birds are tethered 'day and night'

Campaigners are urging Defra to do more to protect captive birds after an undercover investigation found birds are routinely tethered to the ground for hours in some bird of prey zoos.

Tethering involves attaching a thin strap to a bird's leg, which is attached to a perch using a leash. This practice prevents the birds from escaping, whilst allowing the public to view them easily.

An investigation led by the charity Freedom for Animals, which campaigns for an end to animal captivity, gathered information on 95 UK zoos that predominantly house birds of prey. Researchers filmed undercover at 24 locations, questioned staff and carried out freedom of information requests.

A report by the charity suggests birds were tethered in three quarters of the zoos studied. Seventy-four per cent of birds that were tethered were tied down day and night, only being released for short periods when flown, or moved for weighing and other husbandry requirements.

Owls were found to be routinely tethered despite government guidelines stating that they should never be.

According to investigators, some zoos did not appear to have enough aviaries to house all birds, despite Defra guidelines stating that birds should not be permanently tethered.

Around a quarter (23 per cent) of birds tethered were tied down during daylight in full view of visitors, despite being nocturnal. In addition, birds were seen tethered for long hours with no shelter, even on very hot days, with some seen panting and dropping their wings.

Investigators said birds showed visible signs of distress in many cases, including chewing at leg straps, beak clapping and 'bating', where the bird attempts to fly when tied down. Furthermore, 'animal experiences' and shows offered the public extensive direct contact with birds at 72 per cent of zoos visited, with some staff encouraging touching of the birds, despite the potential for damage to their feathers.

Poor conditions
The report also raised concerns about the conditions at some of the zoos, with one third failing to meet the minimum size standards for bird housing. Less than half of the zoos included in the study provided housing that met the bird's needs in terms of temperature, ventilation and lighting etc. A third of enclosures did not have access to clean drinking water.

Freedom for Animals said more than 40 per cent of the establishments studied did not have a zoo licence despite meeting the criteria to require one.

Training methods
There were also concerns about training methods used at some of the zoos investigated. Many birds, especially owls, were raised to imprint on humans, making them easier to train. Freedom for Animals said another common training method involves starving the birds, sometimes for days, in order to elicit desired behaviours.

The charity is calling on the government to review the industry and ban tethering. The report concludes: 'Surely, it is time that we seriously looked at this industry and encouraged open debate about the way in which birds are treated, and crucially, why they are treated as they are.

'At the very least further research into the impacts of flight restraint and imprinting would be a place to start, as well as an urgent need to correctly license zoos as highlighted in this study.'
BIAZA response:
The British and Irish Association of Zoos and Aquariums (BIAZA), a professional body that represents zoos, said in a statement:
'The tethering of some birds of prey and the careful management of their diets are both practices recognised within the Secretary of State Standards of Modern Zoo Practice – the professional guidance document pertaining to UK Zoo Licensing.
'Both of these practices enable the birds to exhibit one of their natural behaviours, namely flight. The calls for a ban by animal rights organisations to these practices are based solely on their ideology and do not consider rigorous global animal welfare research nor do they reflect the high standards of welfare in our zoos.

'Our 121 zoo and aquarium members are centres of excellence where evidence-based animal welfare, education and conservation is at the forefront at all times. As a welfare-centric community, we condemn poor practice particularly as there are clear guidelines and protocols that prevent it from happening.

'With more than 32 million people passing through their gates annually, BIAZA zoos are uniquely positioned to connect their visitors to nature through the animals in their care and provide valuable opportunities to lead on pro-environmental behaviour change to their millions of visitors around the world.
'We would encourage those wishing to see animals that are well cared for by those who follow best practice to seek out the full list of our member zoos on our website www.biaza.org.uk'.