RCVS changes governance of Fellowship scheme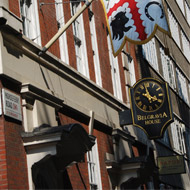 Board expanded and elections announced

The RCVS Fellowship scheme has announced changes to its governance structure, including adding more board members and introducing elections for certain key roles.

In order to achieve its three-year plan, the fellowship is adding three new members to its board. Going forward the 10-strong team will include new positions, including the immediate past chair and two members that deliver specific projects and engage with the wider fellowship.

It has also been decided that certain board members will be elected from within the fellowship - this will include the chair and vice-chair, as well as the two new positions.

Nominations are due to open next week and the election period will start towards the end of July. All fellows are eligible to vote and put themselves forward as candidates.

Elections will be held this year for the chair position and the two projects and engagement board members. An election will be held for the vice-chair position in 2020.

Anthony Roberts, RCVS director of leadership and innovation, said: "This is an excellent opportunity for Fellows to help lead the Fellowship towards its ambition to become a learned society and a source of informed, evidence-based opinion on a variety of veterinary matters.

"We encourage Fellows to put themselves forward for these exciting and influential positions".

Image (c) RCVS