Veterinary charity scoops prestigious RSPCA award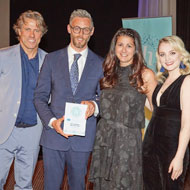 StreetVet has received the RSPCA Honours Outstanding Contribution Award

Veterinary charity StreetVet has been honoured for providing free and accessible veterinary care to homeless people and their pets.
The charity was presented with the Outstanding Contribution Award at the RSPCA Honours ceremony, held at 195 Picadilly, London, on Thursday (27 June).

StreetVet co-founder and veterinary surgeon Jade Statt said: "StreetVet are delighted to be recognised in this year's RSPCA Honours awards line-up. From two vets and a backpack in 2016 to creating an army of over 450 volunteer vets and nurses outreaching weekly in 14 UK locations, the growth of our charity has been overwhelming."

Jade was prompted to set up StreetVet after stopping to speak to a homeless man, Gary, and his dog, Lola. Lola was suffering from a skin condition and Jade felt frustrated that she couldn't use her veterinary skills to help them. Around the same time, Sam Joseph had been performing weekly outreach sessions with a few colleagues in London, getting to know many of the local homeless pet owners.

Unaware of one another, Jade and Sam had both been calling themselves StreetVets and, when they were first introduced in October 2016, they knew that they had to team up. Since then, StreetVet has provided support for more than 600 dogs across 14 locations in the UK.

The charity relies solely on volunteers, with vets and nurses putting on backpacks full of veterinary supplies and providing as much veterinary care on the street as the animals could get in a clinic.

Hosted by comedian John Bishop, the RSPCA Honours event was attended by VIP RSPCA supporters including Deborah Meaden, Peter Egan and Evanna Lynch. The awards pay tribute to the people and organisations that help to make animals' lives better.

StreetVet co-founder Sam Joseph added: "This growth would not have been possible if it were not for the incredible support we have had from both the public and the veterinary profession as a whole. The RSPCA came on board to offer their support very early on in our journey and we are very grateful for this, as it is by collaborating with other organisations that we can reach more owners and ultimately help more pets.

"We are honoured to have received the Outstanding Contribution Award and wish to dedicate it to all our hardworking and committed volunteers who are the heart of StreetVet."
Image (C) RSPCA.