Report sheds light on use of farm health plans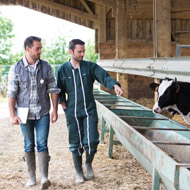 More plans written by vets, but slight drop in farmers using plans

Recent figures from Defra suggest the number of farmers using farm health plans has fallen slightly in the past year, while just over half are using their plan to routinely inform decisions.

Defra's Farm Practices Survey revealed that 73 per cent of farmers had a health plan in 2019, compared to 75 per cent last year.
Of these, 55 per cent said they used their health plan on a routine basis to inform disease management decisions.

In total, 89 per cent said they used it routinely or when they could to inform these decisions, while four per cent felt they should be doing so. Seven per cent did not feel it was necessary to use the plan.

Meanwhile, 84 per cent of health plans were created with the help of a vet or adviser, a figure that has risen steadily from 60 per cent in 2009.

Most farmers had a written or recorded plan (63 per cent) and the number of farmers with a plan that was not recorded fell from 12 per cent to 10 per cent.

The number of farmers who undertake training for animal health, welfare and disease management - either routinely or when they can - rose to 60 per cent in 2019, compared to 58 per cent the previous year.
A further 10 per cent said they felt they should undertake training, but 30 per cent did not feel it was necessary.

Following the report, MSD Animal Health expressed concern over some of the figures and urged more farmers to use proactive ongoing health plans.