Survey highlights confusion over Halal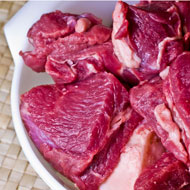 Bristol academic explores attitudes to stunning
A new survey of UK Islamic scholars and Halal consumers has revealed differing opinions on the acceptability of stunning before slaughter.

Awal Fuseini of the University of Bristol School of Veterinary Science, carried out the survey of 66 scholars and 314 consumers. The findings have been published in the Universities Federation for Animal Welfare (UFAW) journal Animal Welfare.

Key findings included:
over 95 per cent of the scholars surveyed suggested that pre-slaughter stunning would be Halal-compliant if it could be shown that the procedure does not result in instantaneous death
the majority of respondents (69 per cent) did not think stunning could reduce or abolish the pain associated with the neck cut
fifty-eight per cent were not convinced that some methods of stunning are reversible, and so put a blanket ban on all types of stunning.
In order for meat to be considered Halal, it must be derived from specific animals and slaughtered in accordance with the Quran and other religious scriptures. These prohibit Muslims from consuming meat from animals that died before they were cut and bled out.

Slaughtering animals without pre-stunning has been shown to compromise welfare, owing to the pain associated with the neck cut and the time that elapses before the animal falls unconscious.

Stunning is now widely accepted in many Muslim-majority countries, including the United Arab Emirates, Saudi Arabia, Malaysia and Indonesia. However, UFAW says that different authorities define death in different ways, meaning there is a lack of clarity on which methods of stunning are acceptable. The two main definitions are based on the absence of a heartbeat or irreversible loss of brain function.

Mr Fuseini wrote in Animal Welfare: 'The requirements of Halal slaughter continue to confuse meat processors, animal science researchers and Halal meat consumers due to differences of opinion regarding some aspects of the rules.

'The rules require animals to be alive at the time of neck-cutting but there appears to be no consensus within the Muslim community on the correct definition and assessment of death and this has resulted in several Halal standards which confuses Halal consumers and abattoir operators as to the true definition of Halal slaughter.

'To safeguard the welfare of animals during Halal slaughter, Islamic jurists need to agree on the rules of Halal slaughter and a definition of death so that there can be clarity of acceptable methods of stunning for Halal meat production.'