Study reviews raw pet food risks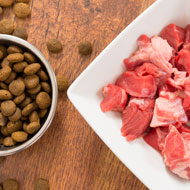 'Little doubt' that serious pathogens are more prevalent in raw diets

Vets and public health practitioners should continue to communicate the risks of raw pet food to consumers and producers, a review has concluded.

Researchers from the APHA and the University of Surrey reviewed current evidence on the risks and benefits of raw diets.

Their findings, published in JSAP, show that there is formal evidence of an altered intestinal microbiome and (subjectively) improved stool quality in dogs that are fed these diets.
There is no robust evidence, however, to support many of the other claimed benefits of a raw food diet, such as inflammatory, infectious, neoplastic, endocrine or behavioural advantages.

In addition, there are documented risks - predominantly malnutrition owing to inexpert formulation and testing, and infections in pets or their owners. Salmonella has been found consistently in a proportion of samples in European and North American studies.

Other organisms of concern include Listeria, shiga toxigenic Escherichia coli, Toxoplasma gondii and Brucella suis.

A recent paper also found that 13 TB cases in UK cats were likely the result of their diet. All cats were fed Natural Instinct Wild Venison, a commercial raw mince for cats.

Another emerging issue of concern is the risk of introducing antibiotic resistant bacteria, something which researchers said may have been under-appreciated until now.

Raw pet food often exceeds hygiene thresholds for counts of Enterobacteriaceae, which commonly encode resistance to critically important antibiotics, such as extended-spectrum cephalosporins. Pets fed a raw diet are at increased risk of shedding this bacteria.

Researchers concluded that the advice against raw feeding of pets 'appears justified', particularly for individuals that are especially vulnerable to infectious disease.

Current data on the risks are 'fragmentary' but there is a growing body of formal scientific evidence on the risks of these diets. The research team said it is important that vets, public health practitioners and organisations continue to communicate these risks to consumers and producers.

They wrote: 'There appears little doubt from survey evidence that the prevalence of potentially serious pathogens is substantially higher in raw pet food than in heat-treated food.'

Mitigation measures focusing on human health, for example safer handling of products, could have the most significant impact in the short-to-medium term, they added.