Dogs mirror stress levels of their owners, study finds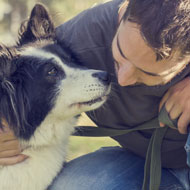 Researchers assess how dogs' cortisol levels are influenced by their owners
Dogs mirror the stress levels of their owners, according to a study led by Linköping University in Sweden.

In the study, researchers assessed how stress levels in dogs are influenced by the people they live with. They found that owners with high stress levels have dogs with high stress levels, while owners with low levels of stress also have dogs with low levels. The results of the study are published in the journal Scientific Reports.

In the study, researchers examined 33 Shetland sheepdogs and 25 border collies, all of which were owned by females. The dogs and their owners gave hair samples on two separate occasions, once during the winter and once during the summer.

Owing to the fact that exercise can increase stress levels, the researchers also wanted to compare companion dogs with those that competed in agility or obedience. They, therefore, recorded the physical activity levels of 44 of the dogs for a week, using a remote cloud-based collar.

Previous research showed that short-term cortisol levels in saliva increase both in the dog and its owner when they compete together. In this study, scientists found that physical exercise in dogs did not affect the long-term cortisol in their hair.

Conversely, the stress level of dogs taking part in obedience and agility appeared to be synchronised more strongly with that of the owner. The researchers believe this could be linked to a greater degree of interaction between dog and owner when they train and compete together.

The researchers also assessed the personalities of the dogs and their owners through surveys to see if stress levels are linked to personality traits.

"Surprisingly enough, we found no major effect on the dog's personality on long-term stress," explained senior lecturer and principal investigator for the study, Lina Roth. "The personality of the owner, on the other hand, had a strong effect. This has led us to suggest that the dog mirrors its owner's stress."

Researchers say more studies are needed before they can make any conclusions about the cause of the correlation.