RCVS publishes new blogs on VN careers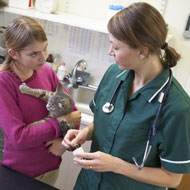 Career case studies posted as VNAM comes to an end
The RCVS has posted a series of new blogs on veterinary nursing careers, to mark the end of Veterinary Nursing Awareness Month.

Published on the VN Futures website, the new blogs aim to highlight differing career pathways available to veterinary nurses.

VN Futures is a joint initiative by the RCVS and BVNA, which aims to help the veterinary nursing profession visualise future challenges and respond to them.

Three case studies have been uploaded from Carl Rudkin, an oncology nurse at Davies Veterinary Specialists; Samantha Thompson, a clinical nursing manager at North Downs Veterinary Referrals; and Claire Speight, a head nurse at Vets4Pets Kettering.

VN Futures project manager Jill Macdonald said: "The veterinary nursing profession offers many opportunities for career progression, and the case studies, from veterinary nurses in a wide variety of different roles, are a great way to help nurses find more about the diverse career pathways available."

In addition to the blogs, there is a section introducing the VN Futures board members and an update on a recent meeting.