Last male Sumatran rhino in Malaysia dies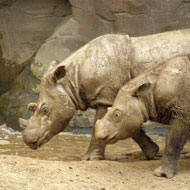 Species is on the verge of extinction

Malaysia's last known male Sumatran rhino has died following months of poor health, according to wildlife officals.

The rhino, called Tam, lived at a reserve in the state of Sabah, Borneo. A female named Iman is the last Sumatran rhino now living in Malaysia.
Tam was thought to be around 30 years old and had been suffering with kidney and liver damage for some time.
Announcing the news on social media, the Borneo Rhino Alliance - one of the organisations that had been caring for Tam - said: "It is with heavy hearts that we share the news that Tam, Malaysia's last male Sumatran rhino, has passed away.
"We will share more details in due time, but right now we need some time to mourn his passing."

The Sumatran rhino is believed to be the most endangered large mammal on earth. Owing to decades of habitat loss and poaching, there are thought to be no more than 80 Sumatran rhinos in existence - most of which live on the island of Sumatra in Western Indonesia.

According to the WWF, the biggest threat Sumatran rhinos now face is the distance that separates their small populations. A tiny number of rhinos of the same subspecies as Tam live in central Borneo.

In a bid to bring the Sumatran rhino back from the verge of extinction, the Government of Indonesia, an alliance of conservation organisations and Sumatran Rhino Rescue have launched an international rescue mission. Currently, they are focused on finding a relocating the scattered individuals to specialised facilities designed for their care. It is hoped that, in time, they will be able to increase their population enough to allow them to be released back into the wild.
Dr Margaret Kinnaird of WWF said: "The world has lost a yet another magnificent creature and moves closer towards losing an ancient rhino lineage. The death of Tam, the last known male in Malaysian Borneo, underscores the critical importance of the collaborative efforts being driven by the Sumatran Rhino Rescue project.
"We offer our condolences to the Government of Sabah and the Borneo Rhino Alliance team, who cared for Tam in his final years."
Image (C) Charles W. Hardin/Wikimedia Commons.