Weather conditions could explain drop in Alabama rot cases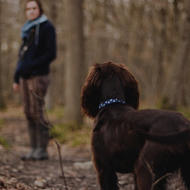 Figures show 10 confirmed cases so far this year
Vets are reporting a drop in the number of cases of Alabama rot in the first three months of 2019, compared to last year, which could suggest weather conditions are playing a part.

Anderson Moores Veterinary Specialists say there have been a total of 185 cases since 2012, with 10 cases confirmed so far this year.

Leading Alabama rot expert David Walker, of Anderson Moores, said that while the fall in cases is good news we must be "cautious" in attributing reasons for this.

"We're continually assessing data associated with confirmed cases and their geographical location," he said, "but one factor we've been exploring is the association between increased case numbers and milder, wetter weather in winter and spring.

"Climatic conditions may have been different this year compared to last; however, this anecdotal assessment needs to be scientifically confirmed before we can reach any firm conclusions."

Alabama rot was first detected in the UK in 2012 but a definitive cause has not yet been identified.

A study by the Royal Veterinary College (RVC) and Anderson Moores last year found 95 per cent of Alabama rot cases were confirmed between November and May. The majority occurred in the west and south of England. Other research by the RVC has suggested gun dogs and hounds are most at risk of contracting the disease.

It has also been suggested that there could be a link with the environmental organism Aeromonas hydrophila, which is implicated in the amphibian disease red leg syndrome. Research undertaken by fish vet Fiona Macdonald last year found a significant number of dogs studied showed an immune response to the organism.