RCVS Knowledge Award winners announced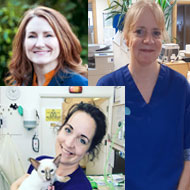 Award recognises those who have implemented quality improvement in their practices

Three individuals have scooped a top award for implementing quality improvement (QI) within their practices.

Louise Northway of Wendover Heights Veterinary Centre; Alison Thomas of Blue Cross; and Dr Angela Rayner of CVS Group plc were crowned 'Knowledge Champions' in the 2019 RCVS Knowledge Awards.

Vets Now Macclesfield's nursing team also won the 'Champion Practice' award for their work on improving general anaesthetic monitoring in an emergency setting.

Clinical nurse lead Louise was recognised for her dedication to continuously improving care by undertaking clinical audits; setting and revising evidence-based protocols, and instigating discussion and adoption of QI by the entire practice team.

Louise, who is known to many as 'Lou the Vet Nurse' on Facebook, stressed the indispensable role that all RVNs can play in their practices:

"Registered Veterinary Nurses should feel empowered to take the lead on quality improvement in practice," she said. "Become your own clinical governance ambassadors and push for gold standard care for your patients!"

Alison, who is head of veterinary services at Blue Cross, received the award for her project to deliver a consistent approach to diagnosis and treatment throughout the charity. Alison developed guidelines for more than 60 common syndromes and conditions based on the best available evidence, taking into account ethical and quality of life (QOL) considerations.

The introduction of these guidelines coincided with significant cost savings, putting the charity on track to treat a further 2,639 animals.

"The development of a set of evidence-based, QOL-driven clinical guidelines at Blue Cross has helped to create a consistent approach and a pragmatic level of service, reducing the costs to the charity," said Alison.
"Involvement of the whole team in their creation has been an excellent source of free CPD but has also ensured a sense of ownership and encouraged more critical thinking in the way we approach all our work."

Clinical services manager Angela won the award for her part in cementing an annual controlled drug's audit across the CVS group's practices. In just one year, CVS' drug discrepancies for ketamine and methadone improved more than ten-fold and six-fold respectively and improved still further the following year.

The awards will be presented at Royal College Day 2019 on Friday, 12 July at the Royal Institute of British Architects.