New Royal College Day details released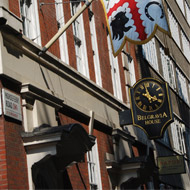 Event will include a keynote speech on diversity
Members of the veterinary professions are being invited to attend the 2019 Royal College Day, which will see the inauguration of the new RCVS President and awards presented to recipients of the 2019 RCVS honours.

The day takes place at the Royal Institute of British Architects (RIBA) on Friday, 12 July and free tickets are now available for veterinary surgeons and nurses via Eventbrite.

The day will begin with an Annual General Meeting during which the results of the RCVS election will be formally declared, new members will be welcomed to Council and the College's annual report and accounts will be presented. Following this will be a short Council Meeting that will see the election of the RCVS Officer team for 2019-20.

Dr Niall Connell was elected as junior vice president for 2018/19 by his fellow Council members and will take over as RCVS president from Amanda Boag. Amanda will move to the position of senior vice president, with Mandisa Greene joining as junior vice president.

Rachael Marshall will remain chair of Veterinary Nursing Council for 2019/20 following her election in May.

The RCVS will then present awards to the winners of the 2019 RCVS honours, which recognise professionals who have gone above and beyond in the course of veterinary science, animal health and welfare or public health.

This year's Queen's Medal will be presented to Professor the Lord Trees in recognition of his 'immense contribution' to the profession. Liverpool RVN Jane Devaney from the University of Liverpool will receive the 2019 RCVS Golden Jubilee Award in recognition of exceptional leadership.

The award will be followed by speeches from Amanda Boag as the outgoing President, Lizzie Lockett as CEO and the day's guest speaker Dr Patricia Mundy MRCVS who will be delivering a talk entitled 'Navigating Diversity and Inclusion in the Veterinary Profession'.

Amanda Boag, RCVS President, invited Dr Mundy to speak and said: "I have known Tricia for nearly 15 years since we worked together at the RVC during her internship. It has been a pleasure to watch as she has subsequently forged a career in the US as a leading veterinary ophthalmologist and to reach her current position as an academic at the University of Pennsylvania in Philadelphia.

"As a black female academic working in a profession that is, both in the US and the UK, overwhelmingly white, she will be a great and inspiring speaker on the importance of diversity and the unseen challenges that those from minority backgrounds can face."

The full agenda for the day can be found at www.rcvs.org.uk/royalcollegeday.