Vets urged to promote pre-purchase consults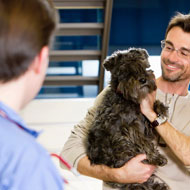 Many owners still unaware their vet can provide advice on choosing a pet

Vets are being urged to promote pre-purchase consultations to help prospective pet owners make responsible buying decisions.

The call comes as figures from the BVA's Voice of the Veterinary Profession Survey reveal that while awareness of The Puppy Contract has almost doubled among companion animal vets (from 29 per cent to 56 per cent), the proportion of clients who actually use it is only estimated to be around 2.5 per cent.

BVA junior vice president Daniella Dos Santos said: "It's extremely encouraging to see that more than half of companion animal vets are now aware of the Puppy Contract and recognise its immense benefits. But with many pet owners still not aware that their vet can be an invaluable first stop for advice on the right pet for them, it's important that we promote pre-purchase consultations to ensure prospective owners make an informed choice and get a healthy, happy and well-socialised pet from a responsible breeder."

The Puppy Contract is a free, downloadable toolkit developed by the Animal Welfare Foundation (AWF) and the RSPCA, backed by leading animal welfare charities and veterinary organisations. It consists of an information section about the puppy and its parents and a legally binding contract for sale between the buyer and the breeder.

BVA's survey found that 85 per cent of vets agree that using the Puppy Contract benefits and informs owners. But, of the 56 per cent of vets that said they were aware of the contract, around half said clients did not come to them for advice on buying a puppy.

AWF chair of trustees Chris Laurence said: "We believe that every dog should be born with the best possible chance of living a healthy and happy life, which is why we created The Puppy Contract as a free tool to empower puppy buyers to make an informed decision when buying a puppy. As trusted experts, vets are in a unique position to use their influence to encourage clients to use The Puppy Contract, whether they are breeding dogs or looking for a new best friend to join the family."

RSPCA dog welfare expert Lisa Hens added: "We'd encourage all vets to recommend using The Puppy Contract to their clients and any prospective puppy owners. At a time when buying a happy, healthy puppy from a responsible breeder has never been more difficult, The Puppy Contract is a document that can help families trying to navigate this minefield - and, hopefully, better protect dog welfare here in England & Wales."