RCVS Knowledge conducting study into quality improvement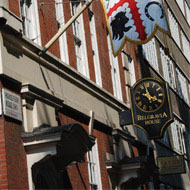 Survey seeks views and experiences of the veterinary profession
A national study into quality improvement (QI) within the veterinary profession has been launched by RCVS Knowledge, the charity partner of the RCVS.

The project will provide valuable insights into the drivers, barriers and expectations associated with QI with the ultimate goal of strengthening the support provided to the profession.

It has been commissioned by RCVS Knowledge and will be carried out by RAND Europe, an independent not-for-profit policy research organisation that aims to improve policy and decision making in the public interest.

"We are delighted to be launching this research project with RAND Europe," said Chris Gush, executive director of RCVS Knowledge.

"We know that many of our colleagues across the profession have embedded QI into their practice to great benefit, while we are also aware that it can be a challenge to do so all of the time.

"This research will provide an unprecedented body of evidence on the experiences and perceptions of QI, which will be critical to how we work to support the sector in this area going forward."

Fundamental to the project will be a survey that is open to all members of the veterinary profession.

The survey will gather information on the amount of time spent on QI activities; the sources of QI training; tools and resources used by professionals; and the profession's general feelings about the effect of quality improvement on veterinary care.

Findings from this survey will then be fed into a summit organised by RCVS Knowledge - the National Summit for Supporting Quality Improvement in Veterinary Care 2019 - that will bring together key policymakers and influencers across the industry.

This is the first time research of this scale into QI in the animal healthcare industry has been carried out.

"This groundbreaking project with RCVS Knowledge aims to explore in depth whether more formal processes of quality improvement would be a useful addition to the routine methods that many members of the profession already use to constantly improve the quality of care they provide," said Dr Tom Ling, head of evaluation at RAND Europe.

"I aim to bring my knowledge of QI developments in human health to this project, but the most important contribution will be the views and experiences of the veterinary profession to ensure our proposals are relevant to your circumstances."

The survey is open now and will be live for six weeks, closing early April. It takes around 10 minutes to complete and one lucky participant will receive a £150 Amazon voucher.