Pug seized and sold on eBay by officials in German town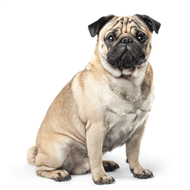 Dog taken from family who had not paid taxes
A town in Germany has come under fierce criticism after officials seized a family's pet pug and sold it on eBay, in a row over unpaid taxes.

German media reports suggest that officials in the town of Ahlen listed the dog, Edda (not pictured), on eBay for €750.

Edda's new owner, a police officer named Michaela Jordan, told the Ahlener Tageblatt newspaper that the dog has medical problems that were not disclosed. Edda has undergone four operations since changing owners, including emergency surgery over Christmas.

Jordan is now seeking recompense for the original purchase price of the dog and medical bills of €1800.

A spokesman for the city, Frank Merschhaus, is quoted by BBC News as saying that the seizure of the dog was legal, but the incident will be fully investigated, as would the use of a private eBay account for selling a living creature.