Views sought on strengthened protections for seabirds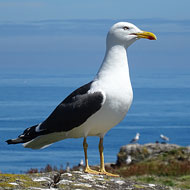 Government announces plans to extend Isles of Scilly Special Protection Area

Residents on the Isles of Scilly are being urged have their say on plans to strengthen protections for seabirds.

On Tuesday (26 February) Natural England announced plans to extend the existing Isles of Scilly Special Protection Area (SPA) by around 13,000 hectares.

The move would recognise the importance of additional species for the first time, including the Manx shearwater, European shag and great black-backed gulls. It would also recognise areas the birds use for feeding, resting, pressing and social interactions - not just those used for nesting.

Environment Minister Thérèse Coffey said: "Our coastline is home to some of the most magnificent wildlife in the world and we are proud to be a world leader in protecting our marine environment.

"It is suggested that these new protections will provide thousands of birds on the Isles of Scilly with a safe haven for foraging and feeding, safeguarding precious marine habitats for future generations. I welcome the consultation and encourage local residents to give their views."

Interim chief executive of Natural England Marian Spain said: "Extending the Isles of Scilly Special Protection Area would bring huge benefits for some of our most important seabird colonies.

"We look forward to hearing what people think and, hopefully working with everybody who lives, works in and visits the Scillies to make these plans become a reality and make this coastline a key addition to the UK's marine protection network."

The Isles of Scilly are home to more than 8,000 pairs and 13 different species of seabird. By extending the boundary, Natural England says that it will be helping to maintain healthy and productive breeding colonies 'for generations to come'.

Special Protections Areas are chosen to protect populations of rare and vulnerable seabirds from human activity, whilst minimising disruption to the birds' open feeding areas. There are currently 47 sites designated in waters around England.

The consultation is now open and will run until 21 May 2019. The public can view the consultation details on gov.uk and can respond online, by email or by post.
Image (C) Anne Burgess.