Panel calls for dog breeders to put health over looks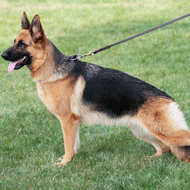 Vets compare modern profiles with those from a century ago
A new panel of vets and other pet industry stakeholders is calling for dog health to be prioritised over 'perfect looks'.

The six-strong Dog Breed Standards panel includes TV vet Emma Milne, vet and columnist Pete Wedderburn and vet and speaker Mark Hedberg.

They looked at the breed profiles of a pug and a German shepherd dog, comparing photos from 100 years ago with images of modern-day dogs - noting the brachycephalic profile now in favour for pugs, and the sloping 'frog-like' back in German shepherds.

Examining the pug photos, Pete Wedderburn said: "This (older-type) animal will clearly suffer from fewer health issues, for instance better breathing, no skin folds that get infected, no corneal ulcers due to bulging eyes, and better dentition due to a less crowded mouth."

Turning to the German shepherd photo from around a century ago, he added: "The posture is a far more natural position, with a straight back, vertical hind legs, and probably far healthier spine and hips."

Emma Milne said that while it is clear that some breeders strive for health over looks, "there are very many breed standards that simply do not conform to health because of either closed gene pools with high levels of inherited disease or, more recently, more and more extreme conformation. Breeding for looks by definition puts health in second or third place."

Mark Hedberg added: "Current dog breeding standards still focus overwhelmingly on appearance, rather than health, and while it's encouraging to see more requirements for health testing in at-risk breeds, people still prioritise looks over long term health, and even quality of life. As long as health is second to looks, this problem will persist."

As the start of Crufts 2019 approaches, panel members called for breed standards to be toughened up and enforced, to ensure 'unhealthy' characteristics are excluded.