Cats 'most rescued animal' by the RSPCA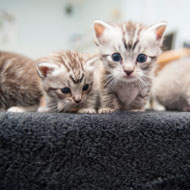 Charity says UK is facing 'cat overpopulation crisis'

To mark World Spay Day (February 26) veterinary organisations and cat groups are joining forces to highlight the cat overpopulation crisis in the UK.

To acknowledge the day, which raises awareness of the need to neuter pets, the RSPCA has revealed that cats are the animal rescued most by its frontline officers.

The charity says that in 2018, officers saved some 22,000 cats and received around 150,000 calls about cats to its national call centre - equal to 18 calls about cats every hour.

The Cat Population Control Group (CPCG), which includes the RSPCA, Cats Protection, Battersea Dogs and Cats Home and iCatCare, is now calling for kittens to be neutered from four months old to avoid unplanned litters and reduce the number of homeless cats.

"Sadly, cats are the most rescued animal by the RSPCA and we receive hundreds of thousands of calls about their welfare each year," said Carrie Stones, cat population control manager at the RSPCA.

"The UK is facing a cat overpopulation crisis as there are simply not enough homes for the large number of cats we and other charities see. We believe the answer is to neuter cats from four months old to ensure that no more unwanted litters are born."

The RSPCA figures show that Greater London takes the top spot for the most cats rescued. In 2018, front line officers rescued 2,350 cats from the capital alone.

The second highest place for cats rescued is the West Midlands, where 1,887 cats were rescued by the charity's frontline officers.

The CPCG believes that neutering cats from the age of four months, instead of the traditional six months, could have a major impact on the number of unplanned litters.
In 2017, the charity neutered 38,474 cats and Cats Protection neutered 153,000 felines.