No-deal guidance for animal importers and exporters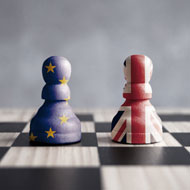 Businesses urged to get ready for changes
The government has published new guidance for animal importers and exporters in the event of a no-deal Brexit.

The guidance applies to those importing and exporting animals, animal products, fish, food and feed. It is designed to minimise disruption, to allow for the continued movement of goods and to maintain biosecurity, food safety and animal welfare standards.

In the event of a no-deal Brexit, the UK will need to be listed as a third country to continue to export to the EU. Negotiations are ongoing to secure this listing and the government says it is 'confident' it will be in place before Britain leaves the EU.

Under new guidance published yesterday (20 February), exporters will need to apply for an Export Health Certificate (EHC) and ensure their trade route passes through Border Inspection Posts when entering Europe.

There will not be any new checks or requirements for those who import animals or animal products. Importers will, however, be required to notify authorities using the new Import of Products, Animals, Food and Feed (IPAFF) system.

The IPAFF system replaces the current EU Trade Control and Expert System and will be available for businesses importing from outside the EU from day one.

Food and animal welfare minister David Rutley said: "Our top priority remains delivering a negotiated deal, but it is the job of a responsible Government to ensure we are prepared for all scenarios, including no deal.

"If you or your business export or import animals and animal products or imports high-risk food and feed you will need to prepare for a number of changes in the event of a no-deal Brexit. Our new guidance pages on gov.uk make clear what you need to do to be ready to continue to trade after we leave the EU.